WP Inventory Settings
A complete and comprehensive guide
When you first arrive at the settings page you will be presented with a page that looks like this: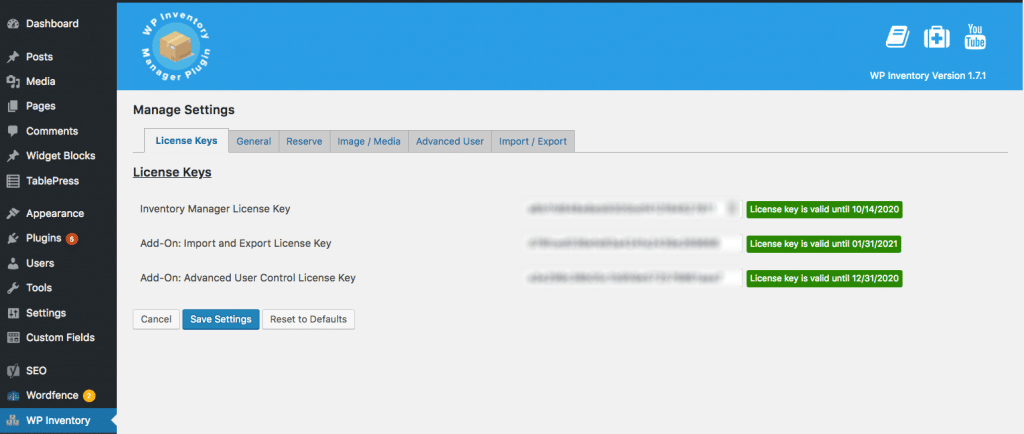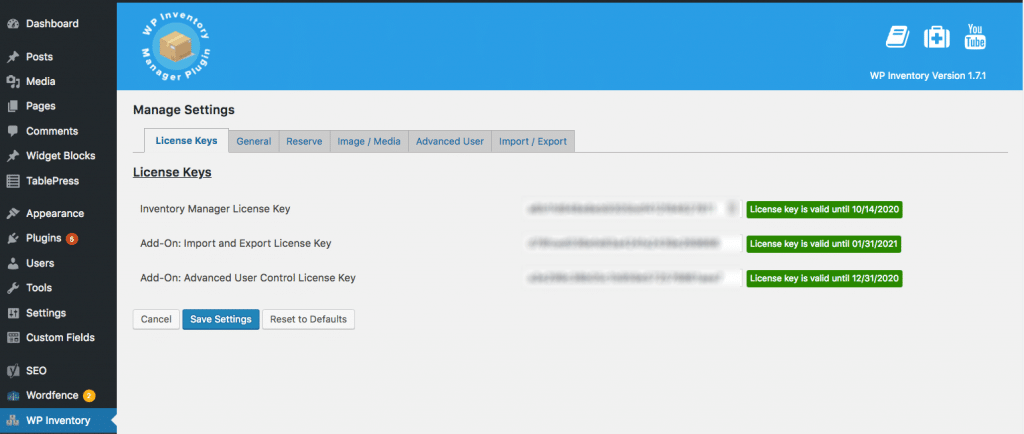 This screen itself is where you enter the license keys to activate WP Inventory Manager, as well as any extensions you have installed. However, at the top of the page, you'll find a menu where you can find many more settings broken down by section. Let's break each section down and describe what each setting does.
Reserve Settings

General Settings (see image reference)

Allow Visitors to Reserve Items

–  This setting will allow you the ability to allow users to reserve items or not.  A user can give his/her information and reserve a specified quantity of the inventory item.

Ask for Quantity When Reserving

– This allows the user to specify the quantity when they are reserving an inventory item. Can be disabled to allow vendor-decided quantity.

Decrease Qty in System on Reserve

– If enabled, this setting will automatically decrease the quantity of an inventory item when a user reserves it.

Send-to Email When Reserve

– This allows you to specify an email address to send notifications to when a user reserves an inventory item. If left blank, it will default to the site admin email address.

Send Reserve Confirmation

– If enabled, this will send a notification to the user when they reserve an inventory item.

Reserve Message

– This allows you to customize the message that is displayed on the web page when a user reserves an inventory item.

Form Settings

These settings allow you to customize the reserve form that the user fills out to reserve an item. You can determine the form title, field titles, whether a field is required or not, and button text.

Image / Media Settings

Image Settings (see image reference)

Placeholder Image

– This allows you to set a default image for your inventory items when no other image is specified.

Clicking Image Displays Larger Image

– When enabled, this setting will add a link inventory item images on the listing page that will display a larger version of the image.

Open Media in New Window

– This setting allows you to determine whether inventory item image files will open in the same tab or a different browser window.

Rebuild Image Thumbnails

–  When you change a product image size via media settings, etc., then it is necessary to rebuild or re-generate that thumbnail or image to be used in place of the previous one.

Slideshow Settings

This page allows you to customize the media file slideshow for inventory item listings. You can customize the slide speed, whether the slideshow is automatic or not, captions, size, and more!
Any new extension you install (e.g. Advanced User Management or Import / Export) will create another tab on the settings page for the add on-specific settings. These will be covered more in depth in their specific section of the documentation. Next step, Labels!